The organization biggest event of the year, KSW: The Race starts in 2 hours, featuring the return of the Polish MMA legend Mamed Khalidov in a catchweight bout against Scott Askham, as well as the interim featherweight championship fight.
The event will be aired on KSW TV, and you can watch it here.
The best way to get your teeth into the event is with our first series of Fighters predict!
KSW's lightheavyweight newcomer and a possible title contender in the near future, Ivan Erslan believes Askham will put another Polish icon in his resume, while giving an edge to Buchinger in the featherweight title bout. He also believes his heavyweight countryman Srdjan Marović will have a winning debut in the organization, with Janikowski starting another winning streak against Szymon Kolecki.
His KSW 51 opponent, Spaniard Darwin Rodriguez also believes Askham will be declared winner in a tight match over Khalidov. He sees Kolecki in more of an advantage over Janikowski, mostly because of the two losses former Olympic bronze medalist produced in his last three outings. Salahdine Parnasse is given the nod over Ivan Buchinger for the only title fight on the card.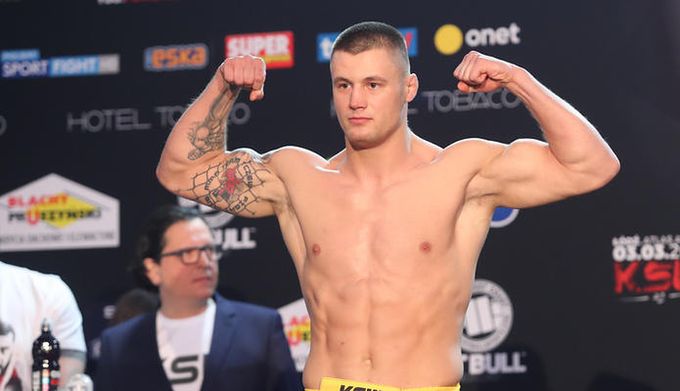 Krystian Kaszubowski's only career loss was against Roberto Soldić, but this time we are putting his predictions to the test. Krystian is backing Mamed in his return to the big stage, whilst also believing Janikowski will have a bounce back winning streak. He believes Karolina Owczarz will have her hand raised after her match against Aleksandra Rola, as well as believing his countryman Grzegorz Szulakowski will win his fight against the highly doubted Shamil Musaev.
Total count (with ETC predictions):
Scott Askham (3) vs. Mamed Khalidov (1)
Damian Janikowski (3) vs. Szymon Kolecki (1) 
Salahdine Parnasse (3) vs. Ivan Buchinger (1) 
Grzegorz Szulakowski (1) vs.  Shamil Musaev (2) 
Karolina Owczarz (2) vs. Aleksandra Rola (0) 
Artur Sowinski (3) vs. Vinicius Bohrer (0) 
Michał Michalski (2) vs. Albert Odzimkowski (0) 
Maciej Kazieczko (2) vs.  Michael Dubois (1) 
Michał Włodarek (1) vs. Srđan Marović (2)